what if your dog's
Inflammation & Pain were Eliminated?
Lab Grade Glucosamine Chondroitin and Lab Grade Curcumin both offer natural healing properties that can help your furry family member feel like a puppy once again
1 month supply
Subscribe and save 15%
1 package of Hip & Joint for Dogs
45 Days Money-Back Guarantee
$4 Shipping & Handling
$44.00
Buy Now
or
$37.40 for 1 package Deliver every month CANCEL ANY TIME!
3 months supply
3 package of Hip & Joint for Dogs
45 Days Money-Back Guarantee
FREE Shipping & Handling
$112.00
Buy Now
6 months supply
6 package of Hip & Joint for Dogs
45 Days Money-Back Guarantee
$4 Shipping & Handling
$195.00
Buy Now
Not all pet Supplements
are safe or effective
Some companies are less focused on quality, so they create pet care supplements that lack effectiveness and, even worse, may even compromise your pet's health.
Similar to arthritis in humans, canine arthritis is characterized by pain and inflammation in the joints and cartilage. That's why many pet supplements contain two all-natural herbs that have been scientifically proven to provide benefits for both of these issues: glucosamine chondroitin and curcumin.
However, creating a supplement that combines these two ingredients isn't enough to offer your pet relief. Why? Because if they aren't lab grade, they won't effectively provide your pet relief from pain and inflammation.
Plus, some pet supplement manufacturers add ingredients to their supplements that are actually toxic in nature, which puts your pet's health at risk. While it doesn't seem like this should be able to happen in this day and age, there's not much you can do about it if these supplements are manufactured outside of the U.S.
We believe your pet deserves
better than that
TURMERIPURE uses only lab grade glucosamine chondroitin and lab grade curcumin sourced from inside the U.S. The third-party labs we use for testing are located in the U.S. as well. Why is this so important?
First, just because a supplement contains a healthy ingredient or two doesn't mean that your pet will be able to effectively digest, absorb, and utilize a high enough amount to receive its positive effects. This is often referred to as bioavailability and it involves the body's ability to process a particular substance or ingredient.
For example: an article published by the British Association of Veterinary Herbalists revealed that upon receiving 500 mgs of oral curcumin, rats only absorbed about 1 percent of this dose. The remaining 99 percent went unused.
This is why lab grade glucosamine chondroitin and curcumin are so important.
If these two herbs aren't high enough in quality, your pet won't be able to efficiently absorb them. The result is that you end up wasting your money, and your dog doesn't receive the relief they deserve.
Giving your dog only lab grade supplements also reduces the risk of exposure to potential toxins. This keeps them safer and provides a more positive treatment response.
Your canine family member can then enjoy a higher quality of life, one that involves being able to jump, run, and play without experiencing so much pain and stiffness.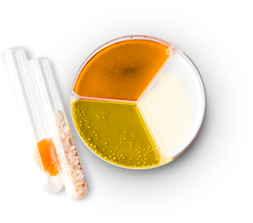 Lab grade Glucosamine Chondroitin and Curcumin, like those found in Turmeripure products, are
Scientifically proven to
improve joint and cartilage health
One in four dogs in the U.S.—more than 19 million canine pets in total—has arthritis, according to research published in Veterinary Science Development. Additionally, osteoarthritis is the most common form, and it causes our four-legged friends to suffer through increased levels of stiffness.
Animal health experts have found through multiple studies that glucosamine chondroitin and curcumin—two of the most powerful natural herbs that exist today—provide positive benefits when it comes to strengthening and protecting pets' joints.
For instance, the Veterinary Journal published a study involving 35 dogs, each with confirmed osteoarthritis in their hips and/or elbows. Those receiving treatment via glucosamine chondroitin showed statistically significant improvements in their level of pain. They also had a greater ability to bear weight, and the overall severity of their condition decreased as well.
Other pieces of research have connected curcumin with greater joint health for pets, including a study published in Veterinary Record that involved 61 dogs. After receiving either a curcumin extract or a placebo twice a day for eight weeks, the researchers' assessment revealed a statistically significant treatment effect in the group that received the actual extract.
Quality Glucosamine Chondroitin
and Curcumin
While it may seem that it's better to include more glucosamine chondroitin and curcumin in a supplement, this isn't exactly the case. In fact, when it comes to herb-based supplements, the quality of the herbs is more important than the amount of herb the product contains.
That's why Turmeripure uses only Lab Grade Glucosamine Chondroitin and Lab Grade Curcumin.
Both of these products are sourced and produced within the U.S., guaranteeing that your pet will receive the highest grade glucosamine chondroitin and curcumin possible in every single dose.
Feeling a bit skeptical?
We completely understand.
If you're not 100% satisfied with Turmeripure's Lab Grade Glucosamine Chondroitin
or Lab Grade Curcumin, we're happy to refund the entire cost
— without hassle and with no questions asked.
buy now
What makes it so effective?
Glucosamine

Glucosamine supplements help dogs struggling with joint-related damage by helping repair the damaged cartilage, according to the American Kennel Club. Glucosamine also offers protection against further joint degeneration.

Chondroitin

Chondroitin helps relieve symptoms associated with canine arthritis by helping the cartilage in the joints retain water. Research has shown that combining the two ingredients—chondroitin with glucosamine—results in reduced pain and arthritis severity in dogs, with studies also confirming the bioavailability of combination supplements when taken orally.

MSM

Its name makes it sound extremely complex, but methylsulfonylmethane (MSM) is actually a naturally occurring compound that has been studied extensively and deemed beneficial for pets with arthritis conditions due to its antioxidant and anti-inflammatory effects.

Green Lipped Mussels

Green lipped mussels provide an anti-inflammatory response that is helpful for easing joint pain and stiffness associated with osteoarthritis in dogs. Studies have also found that when it's mixed with curcumin, the positive effect of this ingredient is made even greater.

Pea Flour

The use of peas and pea derivatives are becoming more commonplace in pet products because they supply a number of benefits, such as offering animals a healthy source of carbohydrates, protein, fiber, and a variety of nutrients essential to achieving maximum health. Peas also aid in disease prevention.

Palm Fruit Oil

Research published by the World Journal of Cardiology says that palm oil is loaded with "powerful antioxidants" like vitamins A and E and has been found to help protect from cardiovascular disease.

Yucca Schidigera

A medicinal plant found in southwestern parts of the U.S., yucca has been used for centuries to help treat dogs and other animals with arthritis, thanks largely to its anti-inflammatory and anti-arthritic effects.

Natural Chicken Flavoring

Like humans, pets also prefer certain flavors. One of those flavors is the taste of meat, so adding natural chicken flavoring makes these pet supplements more appealing and reduces the hassle out of getting your dog to take it.

Sunflower Lecithin

Lecithin improves the shelf life of pet supplements and also offers a variety of benefits for your pet, some of which include improved learning, stronger immune function, and increased healing.

Omega 3 Powder

Omega 3 fatty acids help reduce the deterioration that occurs with arthritis conditions. This results in decreased pain and an improvement in the animal's quality of life—two positive results seen by veterinarians and pet owners alike.

Rosemary Extract

While many humans use this herb to add flavor to steak, chicken, olive oil, and even butter, rosemary serves as a preservative, natural antioxidant, and anti-cancer agent when used in pet products.

Tocopherols

Tocopherols are fat-soluble alcohols that are known for their antioxidant properties, and research has concluded that they are safe for consumption.

Co-Enzyme Q-10

Just as many humans take co-enzyme Q10 for better heart health, Whole Dog Journal says that this antioxidant has been found to provide the same benefits for our animal friends.

What makes Turmeripure a better choice
over other pet supplements?
It's quite simple: Turmeripure uses only lab grade glucosamine chondroitin and curcumin. This means that our supplements are higher in quality, making them more effective at improving your pet's joint health. This helps your dog experience maximum mobility, which can greatly improve its quality of life. Additionally, Turmeripure is sourced and produced in the U.S. in an FDA-approved laboratory and factory, which means our products are safer for your four-legged family member.
Quality matters.
Turmeripure can boost your dog's joint and cartilage health with its lab grade
glucosamine chondroitin and curcumin extracts, two all-natural herbs that have been used for their medicinal value for centuries.
buy now
Here's what people are saying
about our products! *

My baby was diagnosed with dysphagia at 6 months old. We have her on your Hip & Joint daily. She is now 18 months and is running around so much better than she did on cheap glucosamine.
I guess the cheap one wasn't lab grade.
Mary R.
San Luis Obispo, CA
We can now take long brisk walks on the trails including a ton of hills. Her vets are amazed at how she looks and moves. Very little swaying going on since starting daily lab grade glucosamine. I think the curcumin also helped the pain.
April V.
Amarillo, TX
This daily supplement has been a blessing for my lab. I am so blessed to have found it. He is also on a raw diet now that seems to work complimentary with Turmeripure!
THANK YOU!
Heather T.
Bozeman, MT
*The testimonials you see here are from real Turmeripure customers and reflect their real life experiences using the product.
We cannot claim that every user of this product will achieve the same exact results.

Refund Policy
Our #1 policy is your satisfaction
If you are unsatisfied with our product for any reason at all, you can return it within 45 days of when you received it and we'll provide you with a full refund. It's that easy! Please see our Terms, Returns, & Refund Policy page for more information.